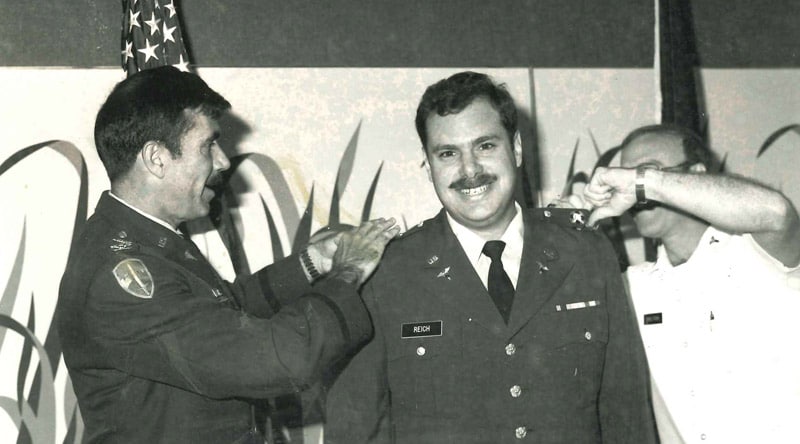 Larry Reich RN, COHN-S Story
I am a retired Army Nurse
—
Right after graduating Nursing School I went on active duty and have been assigned to many posts and positions
During my last tour, I was assigned to Keller Army Hospital at West Point.
The local Army Reserve Units would do their 2 weeks of active duty, working with us at Keller.
I met a reservist that worked at IBM in Poughkeepsie, as an Occupational health Nurse
He talked me into giving Occ Health a try and offered me a job with IBM in Manhattan, after I retired from active duty.
I enjoyed my new mission and stayed with IBM, until a better paying position became available at the American Stock Exchange.
Commuting to lower Manhattan was brutal, and when a position at Pitney Bowes Corp in Stamford CT became available,
I again switched jobs.
This was my fist exposure to a manufacturing- assembly plant- During this tenure I learned the Ergonomics of an assembly line and machine shop. I enjoyed this type of Occupational Health ,and got my certification to show my commitment to my manager. I was the primary OSHA testing RN, doing Pulmonary function and Audiology yearly testing
I stayed at Pitney Bowes for 13 years, until the company fell on hard times and was closing buildings and sites.
I again heard of a position with Boehringer Ingelheim in Danbury CT.
This was my first exposure to research and development of Pharmaceuticals and Chemicals. This was completely different to what I had been exposed to in the past- Also, this employer has laboratory research animals, that require 24 care by
certified technicians . I enjoyed learning a different role in Occupational health. Learning the chemicals was difficult at first, and I worked closely with the EH& S team. I stayed at Boehringer Ingelheim for 10 years, until my retirement in June 2020.
My wife and I sold our home and moved to Massachusetts, to be closer to my adult son and his family.
I stayed retired for 2 weeks, until I made the decision to accept a position with Occupational Health Connections.
Since July 2020, I have done COVID temperature checks at Moderna, and then moved to a position at Siemens Corporation
I met Nancy Clover in the early 2000's at a symposium in the Boston area.